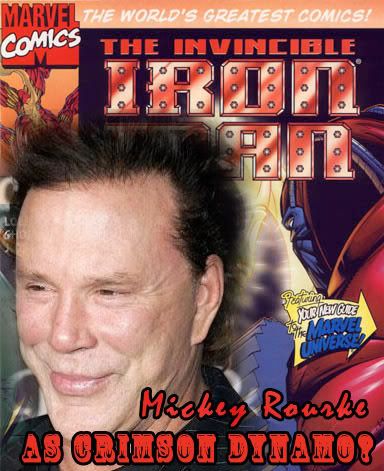 This morning we got some big news on one of my most anticipated films of 2010!  Variety is reporting that Mickey Rourke, the tough as nails star of The Wrestler (best film of last year) and Sin City, is in talks to go head to head against Robert Downey Jr's Tony Stark in Iron Man 2.
Rourke would be stepping into the red armor of Crimson Dynamo, a fan favorite villain who is Tony's equal in power, but is ruthless and destructive.  You can learn more about the various men who have been Crimson Dynamo in the comics here.
Also in talks to play a villain in the Jon Favreau directed sequel is Sam Rockwell.Although it is unknown who Marvel wants Rockwell to portray, could it be the Titanium Man? Titanium Man and Crimson Dynamo have teamed up many times over the years to over power and attempt to take down Iron Man. This would also stack huge odds against Stark in the film.
Sadly, there is no word on if we'll see the Mandarin or Nick Fury in the film. Lets keep our fingers crossed for some more news.