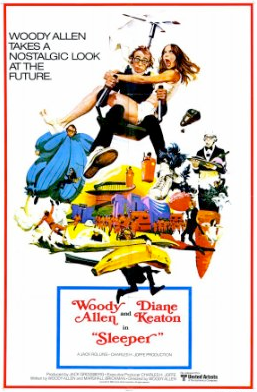 Cinespia is hosting a free screening of Woody Allen's sci-fi romantic comedy, "Sleeper". The screening is part of their summer Cemetery Screenings at the Hollywood Forever Cemetery.
The screening is on Saturday, May 30th. The gates open at 6:30pm with djs Mahssa and Joel Black spinning music before the film starts at 8pm. While it is a "free Screening", they ask for a 10 dollar donation at the door. Hollywood Forever Cemetery is located at 6000 Santa Monica Boulevard, Los Angeles.
The event's official description: "One of Allen's early masterpieces, Sleeper is the master comedians lovable, goofy and downright entertaining foray into science fiction, A health food store owner is frozen and brought back to life in the future by radicals in order to help them overthrow an oppressive government. The man from the past wanders off on his own, however, and begins to explore a brave new world, hilarious and strange, as only Allen's vision could provide. Also starring a young and lovely Diane Keaton."
For more information, you can out Cinespia's official website.