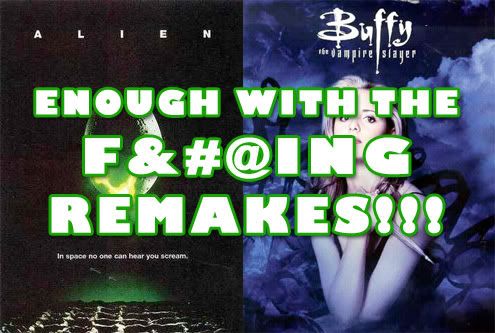 Not once, but twice this week I've been pissed off so much that I haven't felt like writing about movies or the movie business.  Earlier this week came a report that Roy Lee and Doug Davison of Vertigo Entertainment are working with Fran and Kaz Rubel on a remake/relaunch of Buffy the Vampire Slayer without the input of creator Joss Whedon. Now there is a report that Fox is going forward with a remake of Alien. Seriously, why?
I enjoyed the original Buffy movie, but was completely blown away by the television show. Like many fans, I've followed the characters I love into the comics and will continue to follow them into the future. A future we all hoped might include a feature film. Now we get word that a feature is in the works. A feature without Joss Whedon? Without Sarah Michelle Gellar? Without David Boreanaz? No James Marsters? Alyson Hannigan? Anthony Head?  Buffy is nothing without the world Joss created. If they want to go ahead and make a movie about a vampire slayer, than go ahead, why in the world would they want to piss off a fan base and call it Buffy the Vampire Slayer when it isn't. Worse yet, when that movie tanks, it will hurt… or kill… our chances of ever seeing a REAL Buffy movie.
20th Century Fox, the franchise killer, is going to remake Alien. Ridley Scott's original sci-fi horror film is near perfect and was followed by one of the best action sci-fi films of all time, James Cameron's Aliens. Do they think they can top those two films?  Anything they come up with to remake this franchise will be a waste of time and as craptastic as Fox's recent Alien vs Predator films. I really wish that Fox would stop wasting our time and stop pissing on beloved movies.