This post brought to you by MeetMoi. All opinions are 100% mine.
From time to time I get to check out some pretty cool stuff for My Hollywood Dream that I normally wouldn't have come across my desk. Today I was asked to test out and share my thoughts on the MeetMoi Android app.
For those of you who don't know what MeetMoi is; in a nutshell it is a mobile matchmaker that pairs you up with possible partners while you are up and on the go. It allows you to browse through singles and message members directly from your phone. And if you are ready to meet up with the person you are virtual flirting with, MeetMoi can help you both arrange plans to get together to learn more about each other.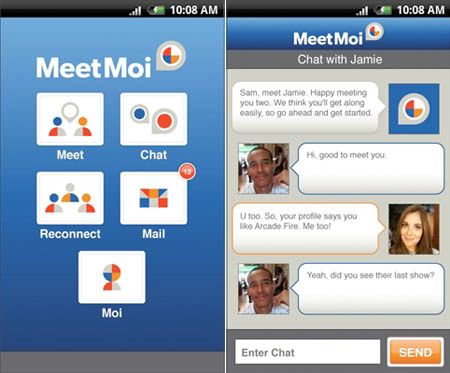 The interface of the application is very clean and almost cartoony (as you can see in the picture above). MeetMoi lets you fill out a profile of information about yourself, attach your picture and look for people you might be interested in. The app also tries to act like a friend and introduce you to those people it thinks might be a good fit to have a relationship with you. It includes the options to chat, mail, meet and reconnect with people you've talked to in MeetMoi in the past. One of the coolest features is that MeetMoi uses your location to try to introduce you to other interested singles nearby, unlike other dating sites that you might have to end up traveling to meet your perfect match.
It is free to sign up for the service and as with all applications, it is a good idea to read the directions and permissions to make sure that the application is right for you.