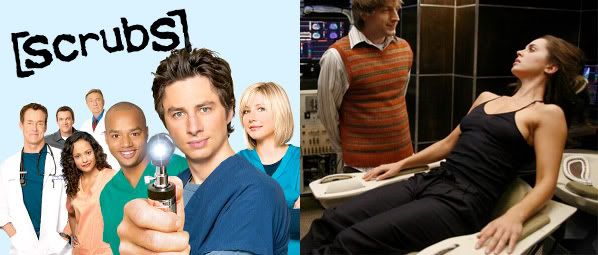 Today was a big day for shows on the bubble as Scrubs was granted a ninth season by ABC and Joss Whedon's told to be dead series Dollhouse was granted a second season by FOX. Both shows will be cutting costs in order to survive.
In the new season of Scrubs, Zack Braff and Sarah Chalke will both be returning for six episodes, while Donald Faison, John C. McGinley and Neil Flynn will all return as regulars, reports THR. Apparently, the show will get some retooling with Braff and Chalke's episodes helping the transition.  If all goes well, we can likely expect a version of Scrubs to continue long into the future.
Dollhouse was granted a 13 episode second season, regardless of low ratings. The show really hit a good stride starting with its 5th episode and continued to get better all the way through its awesome season finale "Omega". I can't wait to see where Whedon takes the series next year.
Also just renewed: Better Off Ted and Castle (a Nathan Fillion show getting a second season? Now that is shocking!)